AZCO Corp. Intern Program Devin Bommarito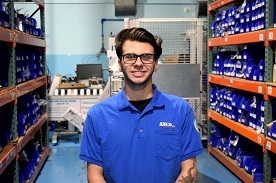 AZCO's intern program provides an excellent source of hands-on training to students while completing their degree. During our program, students apply what they have learned in the classroom to real life experience. Internships play a vital role in helping students gain relevant knowledge and skills in their specific field.
We are pleased to introduce Devin. Devin has recently completed his internship at AZCO Corp. and has accepted our offer to join our team in a part time capacity while he pursues his degree.
Read what Devin had to say about his internship experience with AZCO Corp.:
"My name is Devin Bommarito and my past year at AZCO has been a great experience as an intern. I have not only learned the inner workings of an engineering company, but I have learned skill sets that will not only better my future at AZCO but will allow me to do better in my future career path. I learned how to design, cut, and build as well as how to keep concise charts of inventory. After being able to work as an intern, I was fortunate enough to be offered continued work at AZCO Corp. for the summer and for the coming school year. Using what I have learned in my intern experience will help me through the next years of my life not only at AZCO but at The New Jersey Institute of Technology and upcoming job opportunities."